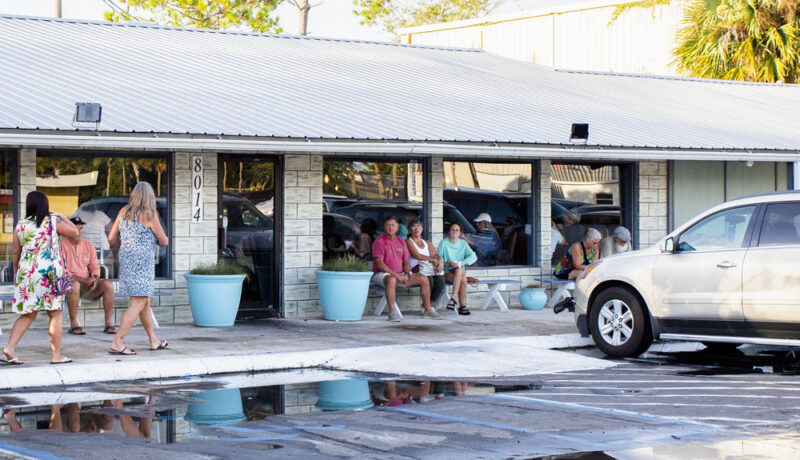 Welcome to C Level the best Seafood & Steak Restaurants near me, a hidden gem nestled in the beautiful Upper Grand Lagoon in Panama City Beach, Florida. Whether you're a local resident or a visitor enjoying a sunny beach vacation, this family-friendly eatery offers a delightful dining experience that will satisfy your taste buds and leave you craving for more. Let's dive into the mouthwatering details of what makes C Level Restaurant a must-visit destination!
C Level Restaurant provides not only an exceptional dining experience but also creates a serene and relaxing atmosphere. As you step inside, you'll be greeted by a warm and inviting ambience. The interior of the restaurant is tastefully adorned. Nautical-themed decor, showcasing beautiful colors and artwork. The combination of soft lighting, comfortable seating, creates an ambiance that appeals to both kids and adults alike for a restaurant in upper grand lagoon.
Delectable Dishes for Every Palate
Culinary excellence is a top priority, and their diverse menu offers a wide range of dishes to please every palate. Seafood lovers will be in paradise as they peruse the menu, featuring an array of freshly caught fish, succulent shrimp, and flavorful crab cakes. From the delicate flavors of pan-seared grouper to the hearty satisfaction of buttery lobster tails, each dish is prepared with a touch of culinary perfection. For those who prefer land-based options, the menu also boasts a selection of tender and juicy steaks, grilled to perfection and served with delectable sides such as garlic mashed potatoes or seasonal vegetables.
Upper Grand Lagoon Restaurant Kid-Friendly Options
C Level Restaurant understands the importance of catering to young diners. They go above and beyond to ensure that children have an enjoyable and tasty experience. The restaurant offers a dedicated kids' menu with dishes designed to appeal to children's taste preferences. Kids can indulge in classics like crispy chicken tenders, cheese sticks, and burgers. Of course, all made with high-quality ingredients and served in child-friendly portions. The restaurant also provides grilled cheese and fish or shrimp baskets. Children can be entertained while waiting for their meals. Outside games ensuring a family-friendly atmosphere for everyone to enjoy.
Unforgettable Sweet Treats
After a satisfying meal, be sure to leave room for dessert. Indulge in C Level Restaurant's delightful sweet treats. One of their standout specialties is the famous Grandma B's Key Lime Pie. Made with freshly squeezed lime juice and a buttery graham cracker crust. This tangy and refreshing Floridian classic is the perfect ending to a seafood feast. But, that's not all, enjoy some fried oreo's or our home made Peanut Butter Pie. Sweet lovers will find themselves in paradise with the decadent Peanut Butter Pie. Be sure to harmonize with the creamy vanilla ice cream served alongside.
Top Restaurant In Upper Grand Lagoon Exceptional Service
At C Level Restaurant, exceptional service is a top priority. The friendly staff members go above and beyond to ensure a memorable dining experience for every guest. From the moment you enter, you'll be greeted with genuine warmth and attentiveness, making you feel like part of the C Level family. The servers are knowledgeable about the menu and are more than happy to provide recommendations or accommodate any dietary preferences or restrictions. The restaurant's family-friendly environment makes it an ideal choice for families looking to enjoy a delicious meal together. C Level Restaurant welcomes kids with open arms, providing high chairs and booster seats for the youngest visitors.
Conclusion:
C Level Seafood & Steakhouse Restaurant in Panama City Beach, Florida, offers an unforgettable dining experience that combines delectable dishes and outstanding service. Whether you're a seafood lover yearning for fresh catches from the sea, a meat enthusiast seeking a perfectly grilled steak, or looking for a kid-friendly spot where locals eat that caters to young diners. C Level Restaurant has something to satisfy every craving. Don't miss the opportunity to treat yourself and your family to this culinary gem. Most important, every visit feels like a seaside escape! This is why we like to consider our-self as the Top Restaurant in Upper Grand Lagoon.
Restaurant Hours
Monday – Sunday
4:00 – ???
Restaurant Phone
850-233-3564
Restaurant Address
8014 Front Beach Road
Panama City Beach, FL 32407

Consuming raw or undercooked meats, poultry, seafood, shellfish, or eggs may increase your risk of foodborne illness.
All rights reserved 2022  C Level – Seafood & Steakhouse Restaurant
Website Design & Promotions: 941-650-3810